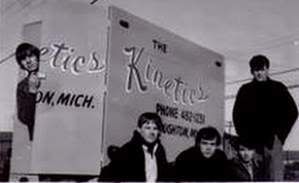 The Kinetics
By STEVE SEYMOUR
After years of gigging, the Houghton-based rock group The Kinetics were poised on the cusp of national exposure in 1968. They had released two singles, an LP, toured extensively around the midwest and filled concert halls in Chicago.

Formed in 1963 as The Kinetic Energy, the group was led by singer Frank Gallis, who was a 'dancer' while on stage and always moving, giving life to the name, which means energy in motion.

The group included various players through the years, but the most popular version was comprised of Gallis, lead vocals; Chuck Roberts, drums; George Tiggis, keyboards; Mike Krenitsky, lead guitar; and C. J. Lindecamp, bass. Gallis, who also served as manager, said this line-up lasted the longest, although other players, including Huey Letourneau, Benny Ripila, Roger Lewis, Chuck Labine, Gary Parpavich, Peter Polzak and Gary 'Jake' Jacobs played in the band at various times.

Although the group never formally changed its name from Kinetic Energy, fans quickly shortened it to the Kinetics.

The band began playing various venues around the Upper Peninsula, gaining valuable experience and popularity. While playing in Ironwood, a talent scout saw the band and invited them to cut a 45 rpm single. The group traveled to Studio City Records in Minneapolis and recorded two songs written by drummer Chuck Roberts, both sung by Gallis.

"I'm Blue" was designated as the single's A side, while "Feeling From My Heart" appeared on the flip. Published by Aqua City, the recordings were given the catalog number 1033 when issued on the Studio City Records label.

"We produced the sessions ourselves and paid the studio time and pressing cost also. We had no backing or a contracted label at that time," Gallis explained. The group was also responsible for distributing the disc which is very hard to find today.

Although the single didn't sell well, the band was earning a growing reputation as an exciting live act. Their shows at the Calumet Armory were legendary.

"We filled the Armory every time we ever played there. Hundreds of fans came out whether we played during a winter storm or in the heat of the summer. We played there as many as three times a week, especially after the Hancock Teen Center burned down in 1965," Gallis recalled.

Of course, the band played other venues on its home turf, such as Michigan Tech's Memorial Hall and Dee Stadium in Houghton, as well as Northern Michigan University Fieldhouse and the Four Seasons in Marquette and dozens of "other wonderful places with wonderful loyal fans," Gallis said. The group was an attraction at teen dances held at Teamsters Hall in Escanaba, as well.

With a great response where ever they played, the Kinetics decided in the fall of 1966 to aggressively seek a record deal. Instead of waiting to be discovered, they made a demo album to distribute to music executives who might be interested in the band.

Armed with popular songs from its stage act like "96 Tears," a number one hit by Question Mark and the Mysterians from Saginaw; "Black is Black" by Los Bravos; and the Thirteenth Floor Elevators' "You're Gonna Miss Me," complete with a mind-blowing distorted guitar solo, the Kinetics cut a "covers" album at the historic Calumet Theater.

Produced by Fran Locatelli, the long player was titled "Snow Children." Credited to the (Five) Kinetics, the LP was issued by Recorded Publications Co., Camden, N. J., and carried the catalog number 81262.

The album's simple two-color cover features various geometric shapes, but no image of the Kinetics. That's because the cover wasn't considered important compared to the record inside which was supposed to sell the group.

An order was placed for 2,500 copies of the album, which was also sold in some Copper Country retail stores, at dances, and distributed to selected disc jockeys.

As the 1960s rolled along, the Kinetics' popularity on the live circuit continued to rise. They played before 5,000 fans at Chicago's Holiday Ballroom and 7,500 more at the extravagantly decorated Aragon Ballroom.

Finally, the Kinetics got a break when they were contacted by Mercury Records executive and producer Eddie Mascari. Mascari, who was working freelance for Chess Records, asked Gallis to Chicago to finalize a recording contract. Gallis, as the Kinetics' manager, took guitarist Mike Krenitsky along to review the paperwork.

Mascari put the Kinetics in touch with Dee Robb, leader of the Robbs rock group, who invited them to their hometown of Milwaukee to record. On a trip to the west coast just two weeks earlier Robb had heard a "country-rock" take of an old tune by Dale Hawkins called "Susie Q," this time done by a new group, Creedence Clearwater Revival. Robb was convinced the Kinetics could tape a "harder rock" version and top CCR's recording which got off to a slow start.

After two days of sessions in Milwaukee, the Kinetics travelled to Chicago where Mascari helped in the final production of "Susie Q" at Stereo-Sonic Studios. While Mascari and the group brought the final "master" to Chess, company executives decided to "farm-out" the record to the more mainstream Amy/ Mala/ Bell label, because the Kinetics didn't seem to fit the Chess profile.

Gallis said the 45, credited to Kinetic Energy, appeared on all three of the company's imprints, which were shipped to different parts of the country. On the Amy label, the 45 was assigned a catalog number of 11,028. Clocking in at a radio-friendly two minutes and 10 seconds, "Susie Q," was published by Arc Music, a division of Chess Records and produced by Johnny LaMont.

LaMont also produced the single's b side, "Margaret Ann," credited to songwriter William LeHotsky and published by Bob-Cor Music. Although the band didn't spend a lot of time on "Margaret Ann," the song does include a sitar solo by a musician from Western Studios in Los Angeles known as "Squirrel."

Flown in from California, the sitar player listened to the song once, practiced his part a single time, and played it a second time for taping, as Gallis sang his vocal part live. Then, without saying a word, Squirrel left the studio and returned home, Gallis recalled.

The Kinetics' version of "Susie Q" got some midwest airplay thanks to disc jockey and WLS radio personality Dick Biondi, who played the tune on the 50,000 watt Chicago station. However, in the race to make "Susie Q," a hit, CCR's version topped out at number 11 to become the California band's first charter, while the Kinetics' take languished.

With additional recordings "in the can," including a track called "Dirty Old Man," the Kinetics were prepared to issue more 45s, if their version "Susie Q" reached number 50 or better on the Billboard chart. They even hoped for a chance to record a "full ten song LP," Gallis remembered.

But fate did not work in their favor and a few months later the Kinetics played their last live show at the Sahara Club in Green Bay on March 1, 1969.

In the aftermath of the Kinetics, Gallis went into insurance sales and rose to vice president in a major insurance company for many years. Kretitsky moved to Florida where he won several awards for his work in country music. Lindecamp returned to his home town of Mansfield, Ohio, and played bass for a time with the bubblegum group, The Ohio Express, famous for "Yummy, Yummy, Yummy." Chuck Roberts still lives in Houghton. There was talk about a reunion concert in the Copper Country about a decade ago, but that possibility ended with the untimely death of George Tiggis.

As the years passed, Gallis lost touch with Mascari, the music industry insider who "discovered" the Kinetics. Then, a few years ago, Gallis' wife pointed out Mascari's obituary in the newspaper. They were "stunned" to learn that Marcari had lived just three blocks away, in the same Chicago suburb. They had driven by his house for 30 years, even noticing Mascari's "Fast Eddie" license plate, but never making the connection. That irony seemed to reflect the Kinetics' own brush with fame, which didn't quite connect nationally.

Today, memories of the Kinetics linger with fans.

Childhood friends Keith Polkinghorne and Ron Kentala, who grew up in the Copper Country community of Mohawk, vividly remember Kinetics' shows.

Polkinghorne said he and his aspiring musician buddies used to "worship at their feet," that is--stand in front of the stage and watch what they were playing. By the way, that is how I learned to play bass. I used to watch C. J.'s fingers, watch for patterns, and then go home and replicate it. For years, I never knew what I was playing, I just knew it sounded right. I later went on to college and became a music major and it shed a whole bunch of light on what it was I was doing."

"I was in awe of Mike and his Gretsch Country Gentleman guitar," Kentala related. "My most memorable experience was in the summer of 1968 when Mike was selling his Mosrite Fuzz Tone guitar. He didn't know me from Adam, but he let me take it home and try it out. Me, a young punk 14-year-old kid. Talk about being on cloud nine. Keith and I jamming at his house with the Kinetics' Fuzz Tone! I never did buy it. My parents wouldn't loan me the money. But, it's something I'll never forget."

Kinetics Picture Gallery
Photos courtesy of Frank Gallis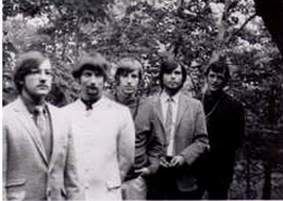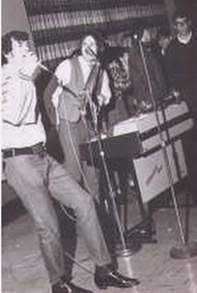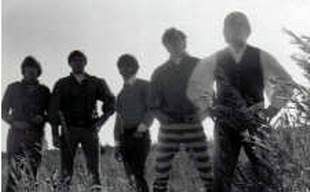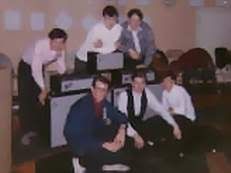 Kinetics & Robbs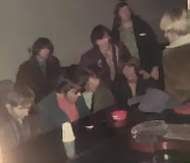 Kinetics and Robbs in recording session


Kinetics with the Robbs